Sri Lankan Embassy Statement on MP Uddika Premarathne's Visit to Japan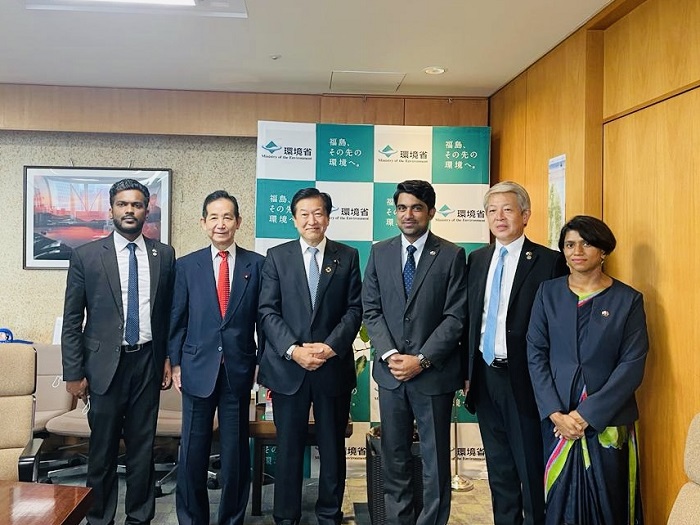 Uddika Premarathne, Member of Parliament from Anuradhapura District, is currently on a visit to Japan.
In a statement, the Sri Lankan Embassy in Tokyo said MP Premaratne will be in Japan from July 31 to August 11, 2022.
During his stay in Japan, the Premarathne parliamentarian is due to meet with several key Japanese government dignitaries with a view to enhancing bilateral relations between Sri Lanka and Japan as well as promoting investment opportunities and collaborative projects in the areas agriculture, overseas employment, and primary education.
On August 1, 2022, MP Premaratne visited Japan's Environment Minister, Tsuyoshi Yamaguchi, and took the opportunity to appreciate Japan's development assistance to Sri Lanka. Under the umbrella of the Sustainable Development Goals (SDGs), MP Premarathne called on Japan to consider the establishment of industrial waste recycling plants and introduce the transfer of various technologies that convert non-recyclable waste into renewable energy. Explaining the potential of fertilizer production for export in Anuradhapura, Sri Lanka, he urged Japan to consider investment in this sector.
During his stay in Tokyo, the Premarathne parliamentarian met with a member of the ruling Liberal Democratic Party (LDP) House of Representatives, Satoshi Fujimaru, who is the acting director of the LDP's Foreign Affairs Division and a former vice -Parliamentary Minister of Defence. MP Premarathna requested Japan's help to improve the standard of preschool education, teaching methods and facilities in Anuradhapura district to reach a level similar to Japan's preschool system. Former Minister of State for Regional Revitalization and Regulatory Reform, Kozo Yamamoto, who coordinated the high-level meetings, was also present. The Chargé d'Affaires ad interim of the Sri Lankan Embassy in Japan, Sesath Thambugala, accompanied the Premarathne parliamentarian during his meetings.
The visiting parliamentarian also attended an event organized for him by the Sri Lankan Embassy in Tokyo to interact with representatives of six Sri Lankan-Japanese Associations at the Embassy premises on August 1, 2022.
Premaratne MP is expected to visit Japan's Foreign Minister on August 10, 2022. During his visit to the city of Kita-kyushu in Japan's Fukuoka Prefecture, Premarathne MP is expected to meet with several regional mayors and government officials and meet will also travel to Hiroshima. Town. (NewsWire)